This page is all about the information of the Biju Pakka Ghar Yojana. We have shared the details of installments, eligibility criteria, application process, beneficiary list, and all other details of BPGY. This information will be very useful for our users if they want to apply for BPGY for the year 2023.
Here, you can also find the new update of Biju Pakka Ghar Yojana list for 2023. Download Odisha Biju Pakka Ghar Yojana list online. You can also get Biju Pakka Ghar Scheme Rural Area New List in PDF format.
About Biju Pakka Ghar Yojana 2023
The Biju Pakka Ghar Yojana scheme is for the people of Odisha who are living in kutcha house. The scheme was launched by the Chief Minister of Odisha state in 2014 to help the people who are unable to build pakka house themselves. The Govt. knows the financial conditions of the people in the state. Not everyone in the state can afford to build pakka house on their own. So, they aim to provide Pakka house to every family living in a Kutcha house.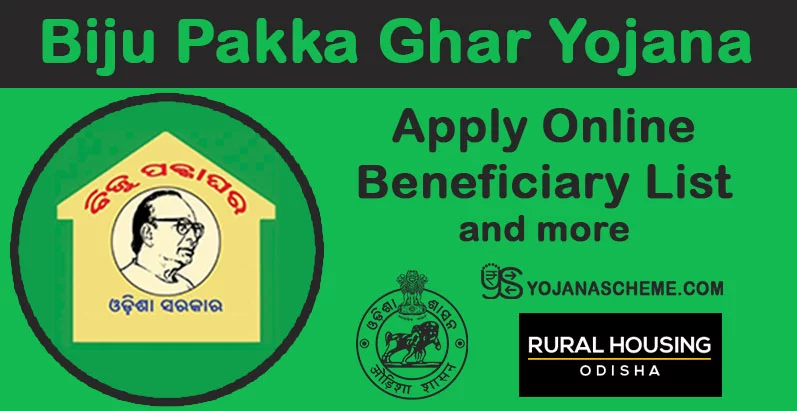 Specification of the houses
The Odisha Govt. has introduced some specifications of both Pakka and Kutcha houses. It comes under the official notification of BPGY. The specification that needs to be checked for verifying a kutcha house and pakka house are as follows:
Kutcha house: A house is called a kutcha house if it is made of any non-durable material like mud, reeds, unburnt bricks, stones, grass, etc.
Pakka house: A house is called a Pakks house if its:
Foundation, roof, and walls are made of permanent materials.
Wall materials: fly ash bricks, burnt bricks, stones packed with lime or cement, cement, concrete, timber, etc.
Its lifetime should be of a minimum of 30 years.
The objective of this scheme
The main objective of BPGY is to help poor people of rural areas building pakka house. The Odisha Govt. aims to help everyone living in kutcha houses with pakka houses. The BPGY scheme has two components.
Biju Pucca Ghar Yojana (Normal): Under this component, the government will transfer funds to the beneficiary of up to Rs.1,50,000. The amount gets transferred via RTGS/ NEFT/any other electronic mode of payment.
Biju Pucca Ghar Yojana (special): Under this component, the government aims to provide housing units to the beneficiaries. The housing units will be given to beneficiary in the following categories:
Whose house is fully or severely damaged due to natural or manmade calamities like flood, cyclone, earthquake, fire, elephant menace, communal violence, LWE violence etc.
Victims of a river or sea inundation who need re-allocation.
Schedule tribe and other traditional forest dwellers (Act. 2006).
People affected by Occupational diseases.
A very poor, vulnerable, and deserving household who need a Pakka house.
Key Highlights of BPGY
| | |
| --- | --- |
| Scheme Name | Biju Pakka Ghar Yojana |
| Launched By | Chief Minister Naveen Patnaik |
| Beneficiary | Economically Weaker Section People (Citizen of Odisha) |
| Mode of Application | Online and Offline |
| Catagory | Odisha Government Schemes |
| Official Website | rhodisha.gov.in |
Installments in this scheme
There are different unit costs under BPGY 2023 for IAP and non-IAP districts. Per unit cost in non-IAP is approximately Rs.1.20 lacs. The beneficiaries in IAP districts get approximately Rs.1.30 lacs. A house needs to be built in an area of around 25 square meters excluding the area taken by the toilet.
The beneficiary of BPGY scheme gets every installment after completion of work at a certain level.
The 1st installment is Rs.20,000 when the work order is issued.
The 2nd installment is Rs.35000 for IAP districts and Rs.30000 for non-IAP districts. It is released when the construction reaches the lintel level.
The 3rd installment is Rs.45000 for IAP districts and Rs.40000 for non-IAP districts. It is released when the construction is finished up to the roof.
The last installment is Rs.30000. It gets transferred when the unit construction is completed with sanitary latrines and the beneficiary starts living in that unit.
Important: Before the last installment gets released, the beneficiary needs to engrave a BPGY logo with the beneficiary name, area name, sanction year, unit cost, etc on the front wall of the house.
Eligibility criteria
The following criteria need to be fulfilled to apply for Biju Pakka Ghar Yojana.
The applicant must be a permanent resident of Odisha.
He/She must belong to the EWS (economically weaker section).
The applicant should not own have any pakka house in the state.
The applicant must be living in a kutcha house.
Documents required
Address Proof
Identification Proof
Aadhaar Card
Voter ID Card
Residence Certificate
Bonafide Certificate
BPL Certificate
EWS Certificate
Passport size photograph
How to apply for this scheme (Application Process)
The application for the Biju Pucca Ghar Yojana can be submitted either online or offline. To apply online, just follow the below steps:
Visit the official website of Rural Housing Odisha.
Find the application form and fill it in with the necessary information asked.
Attach the required documents.
Click on the Submit button.
For more information or help regarding BPGY application, contact toll-free number. 1800-345-6768 or 155-237.
Process To Check Biju Pakka Ghar Yojana List
Checking the beneficiary list of BPGY 2023 is simple. Just follow the below steps:
First, visit the official website of Rural Housing Odisha.
Click on the beneficiary list option.
Now, you will see 4 options to search for the beneficiary list.
Select the option "Search by location" and a new page will appear.
Enter your area details like your district, block, panchayat name, etc, and Submit.
Now, on the next page, the latest beneficiary list will be displayed with details like your priority number, district, block, village name, father/husband name, etc.
You can download the list as PDF or take a printout of that page for future use.
You can come back to YojanaScheme website any time for any update about the Biju Pakka Ghar Yojana.