CM Naveen Pattnaik, Government of Odisha has launched Kalia Yojana for the benefit of farmers. The scheme Krushak Assistance for Livelihood and Income Augmentation (KALIA) was launched on 21st December 2018. Mainly, this Kalia scheme benefits Farmers, cultivators, croppers, and landless agriculture laborers. Under the scheme beneficiaries will get financial assistance from Rs 10000/- per annum. It gets rolled out to all beneficiaries in a few phases.
If you are willing to avail the benefits of Kalia Yojana, first, you need to check the eligibility criteria and the required documents carefully. If you fulfill all the criteria you can go ahead and apply for it. Check how to apply section for the detailed procedure.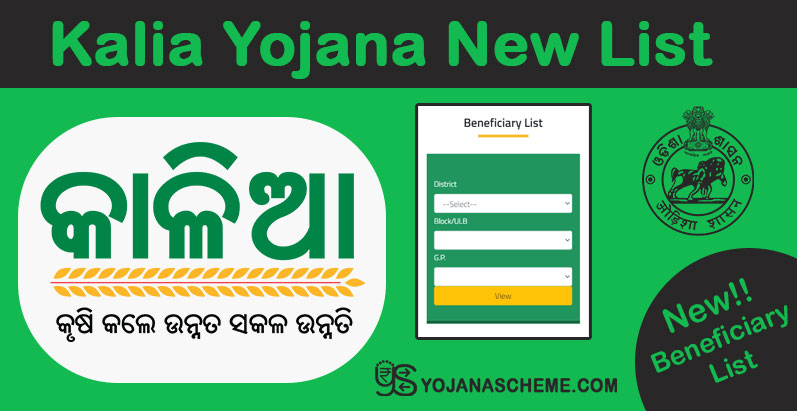 Kalia Yojana List 2023 (kalia.co.in)
| | |
| --- | --- |
| Name of the Scheme | Kalia Yojana |
| Launched by | Odisha Government |
| Benefits | Financial Assistance for Farmers |
| Beneficiary | Farmers in Odisha |
| Application Mode | Online + Offline |
| Similar Scheme | WB Krishak Bandhu List |
Update: In last September, Odisha CM Naveen Patnaik distributed Rs 769 crore to around 85,000 small and marginal farmers as financial assistance under the KALIA Scheme. ₹2,000 has been deposited in the account of each beneficiary.
About Odisha KALIA Yojana
For the first time when the scheme is introduced in Odisha government sanctioned financial help for 43 lakh beneficiaries of RS 5115 crores. Now for the year, 2023-2025 govt has passed budget of Rs 1142 crores. Under the scheme for the current year, all the beneficiaries will get Rs 10000 per annum. The govt will distribute Rs 4000 under Kalia yojana scheme and the rest Rs 6000 will be distributed by the central government under the PM Kisan yojana. If you are eligible for Kalia yojana scheme then you can also get the benefits of PM Kisan Yojana scheme. No need to enroll for it separately.
You can check your name on KALIA Yojana List 2023 District & Village Wise by following a few simple steps. That we will provide in detail. So keep reading to get more information about Kalia Yojana.
Benefits of Odisha Kalia Yojana
KALIA Yojana is a Krushak Assistance for the Livelihood and Income Augmentation scheme introduced by the Odisha government for the benefit of farmers, croppers, cultivators, and landless agriculture labourers. So all the beneficiaries under the scheme will get financial benefits along with some other important benefits.
Support for cultivation: Small and marginal farmers will get financial aid of RS 25000 which will be given over 5 seasons. So the farmer can purchase seeds, fertilizers, pesticides along a monetary need for labor and other instruments.
Support for livelihood: Landless Agricultural Household will get financial aid of RS 12500 for Agricultural activities. It will provide benefits to the goat rearing unit, mini layer unit, fishery kits for fishermen, mushroom cultivation, bee-keeping, and duckery units. Mainly SC ST people of the state will get most of the benefits from this.
Assistance for Vulnerable Agricultural Household: Rs 10000 financial assistance per family will be provided to vulnerable cultivators / landless agricultural labourers who are in old age, having disabilities or disease so that they can take care of their sustenance.
Life Insurance for Cultivators & Landless Agricultural Laborers: Life Insurance cover worth 2 lakh at a very low premium of Rs. 330/- to be provided for all the beneficiaries having a savings bank account. The age of beneficiary age must be between 18-50 years.
Interest-Free Crop Loan: With 0% interest crop loans will be provided up to RS 50000/- to vulnerable landless labourers, cultivators, sharecroppers, and agricultural families that are identified by gram Panchayat.
How To Check KALIA Yojana Beneficiary List 2023 Online?
First, we need to visit the official website of Krushak Assistance for Livelihood and Income Augmentation (KALIA) by Clicking Here.
Now on the homepage click on "KALIA Yojana List" link.
On this page, provide your District name.
Next, select your Block/ULB and GP.
Then click on View.
You can see a list of PDF links.
Then click on the PDF link and after that enter the Captcha for security.
Now click on "Submit" to open the PDF file to check your name.
Here you can check your KALIA ID, name, village name etc to confirm your name on the list.
Procedure to submit Grievance Application
To submit Kalia Yojana Grievance Application we need to visit the official website first.
Now we have to select the online Grievance Application form option.
On the next page, we can see a list of instructions is provided, read the carefully then click on Proceed.
Next, it will ask for Do you want to file a Grievance? With yes or no. So click on Yes.
Now on this page, you need to provide your Aadhar number and click on Show.
It will now show the grievance application form.
After that, we need to fill the application form with the required details.
Now after filling need to click on Submit.
After that a token will appear, we need to note it down for further reference.
How to check Kalia Yojana Grievance Application Status?
So, if you have submitted KALIA Yojana Grievance Application form and want to know the status, then check below steps.
Click here or go to the official website and click on online Grievance Application form option.
Now on this page click on track your application option.
It will lead to a new page where we need to put the token number.
After providing the token number click on the Show to get the status of the application.
Required Document to Apply Online
Proof of identity
Address proof
Income certificate
Bank passbook
Agricultural land papers
Domicile Certificate
Eligibility Criteria
The applicant must be a permanent resident of Odisha state.
If the farmer falls under the tax paying category he can not opt-in for it.
The applicant must belong to BPL category.
If the farmer is working in any govt sector he can not apply.
The applicant must have a working bank account.
KALIA Helpline Number
Toll-Free Number: 1800-572-1122
You can contact the above number if you have any queries related to KALIA Yojana scheme.