Scholarships are one of the best ways to help students who are unable to study because of financial problems. The Scholarship PFMS (Public Financial Management System) is one of the most helpful scholarships in India. So, here we have got all the details of PFMS Scholarship 2022 for you.
In this post, you find the exact information about PFMS Scholarship Status, Eligibility, online registration, and more.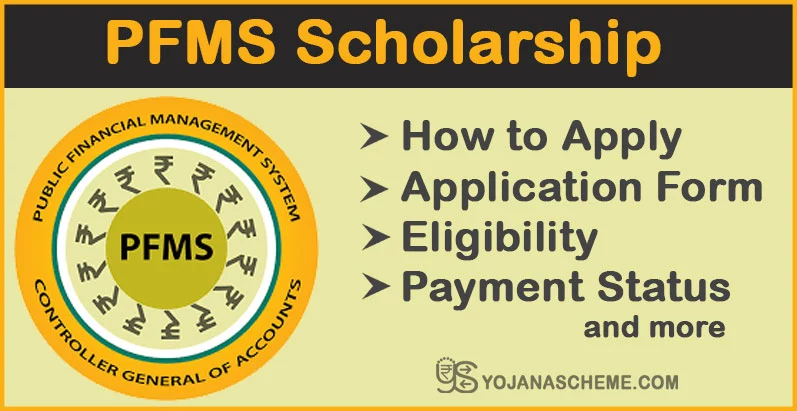 PFMS Scholarship List 2022 (pfms.nic.in)
| | |
| --- | --- |
| Name of the Scheme | PFMS Scholarship |
| Launched by | Central Government |
| Benefits | Scholarship for Students |
| Beneficiary | Students in India |
| Application Mode | Online |
| Similar Scheme | WB Krishak Bandhu List |
What is PFMS Scholarship?
PMFS is a scholarship conducted by the Indian government. It provides only for the students. The students which are unable to pay their fees at the education institute. It gives incentive to secondary students. Its full form is the Public Financial Management system. It is one of the steps of the Indian government to spread basic education to financially challenged students. Under this pfmc scholarship, some special categories come like Odisha Backward Caste, Scheduled Caste, Girls etc.
List Of Scholarship Under PFMS
National Means cum Merit Scholarship
National Scheme for incentive for the girl child for secondary education
Post-Matric Scholarship for SC Students
Post-Matric Scholarship for OBC Students
Pre-Matric Scholarship for SC Students
Top Class Education Scheme for SC
Universities / College Student
Up-graduation of Matric of SC Students
Benefits
The poor students who have talent but they have lack opportunity, get a chance to prove themselves.
With this Scholarship, they can continue their study without any problem.
Eligibility Criteria
The student must have the following eligibility.
The applicant must be a citizen of India.
Annual family income of the applicant should be below 6 Lakh.
The applicant's age must be in between 18 to 25 years.
The applicant must have passed 10th Class.
Required documents to Apply Online
Aadhaar Card
Educational Certificate
Passport Size photographs
Fee Receipt
Caste Certificate
Income Certificate
Bank details
How to Apply Online through pfms.nic.in
Step 1: Go to the Official Website Of PMFS.
Step 2: Click on the option of student registration.
Step 3: Select the Scheme you want to apply to.
Step 4: Enter your details.
Step 5: Click on "Search".
Step 6: Wait for your application form. It will be automatically fill up.
Step 7: Give your details and upload the required documents.
Step 8: Go to the "Submit" and click it
Precaution While Filling Application Form
Be careful about your name's spelling and the year of passing.
Must take a print with you.
How to check your PFMS payment status
Step 1: Visit the Official website of PFMS.
Step 2: Go to the "Know Your Payment " option.
Step 3: Fill up the required information.
Step 4: Click on search.
Step 5: Wait a minute your details will be on your screen.
PFMS Bank List
Andhra Pragathi Grameena bank
Axis bank
Bank of Baroda
Bank of India
NKGSB co-op bank ltd
Oriental bank of commerce
Punjab and Sind bank
Punjab National bank
RBL bank
South Indian bank
Standard chartered bank
Bank of Maharashtra
Bassein catholic co-op.bank ltd.
Canara bank
Catholic Syrian bank ltd.
Central bank of India
Citibank
Allahabad Bank
Allahabad Gramin UP Bank
Andhra bank
Bombay mercantile co-op.bank ltd.
City union bank ltd
Corporation bank
Dcb bank limited
Dena bank
Dhanlaxmi bank ltd
HDFC bank
HSBC
ICICI bank
New India co-operative bank ltd
Manipur state co-op.bank ltd.
Madhya Bihar Gramin bank
Kotak Mahindra bank
Karur vysya bank
Karnataka bank
Jharkhand Gramin bank
Indusind bank limited
Indian overseas bank
Indian bank
IDBI bank
State bank of India
Svc co-operative bank ltd.
Syndicate bank
Yes bank ltd
Vijaya bank
United bank of India
Union Bank of India
UCO bank
The Thane Janata Sahakari bank ltd
The Saraswat co-operative bank ltd
Lakshmi Vilas bank ltd
The kalupur commercial co. op. bank ltd.
The Jammu and Kashmir bank ltd
Federal bank ltd
The cosmos co-operative bank ltd.
Tamilnad mercantile bank ltd