Madhu Babu Pension Yojana is a scheme of Govt of Odisha launched in the year 2008. Here we will provide you with all the details about this pension scheme, criteria and documents required. Along with that, you can also get to know how you can also apply for this scheme online. If you have already applied for the scheme and want to know about your application's current status, you can check the application status section of this post to get all the details. This scheme is mainly available to the people of Odisha.
If you are a citizen of Odisha and meet the required criteria, you can apply for the scheme through the official website sepd.gov.in. Collaborating with the Department of Social Security and Empowerment of Persons with Disabilities, Cheif Minister of Odisha Naveen Patnaik, govt of Odisha launched the Madhu Babu Pension Yojana scheme for the benefits of different categories of people who need financial help for their daily needs.
Odisha Madhu Babu Pension Yojana
Before this scheme was launched, there were two old schemes Disability Pension Rules 1985 and Revised Old Age Pension Rules 1989. These two schemes were merged and given a new name with some additional benefits to different categories of Odisha people. Old age people, Widowed, leprosy patients, unmarried women, and PWD can apply for pension under this scheme. This scheme is currently providing benefits to 47 lakhs people while eyeing on to expand its reach to 50 lakh people by the end of 2022.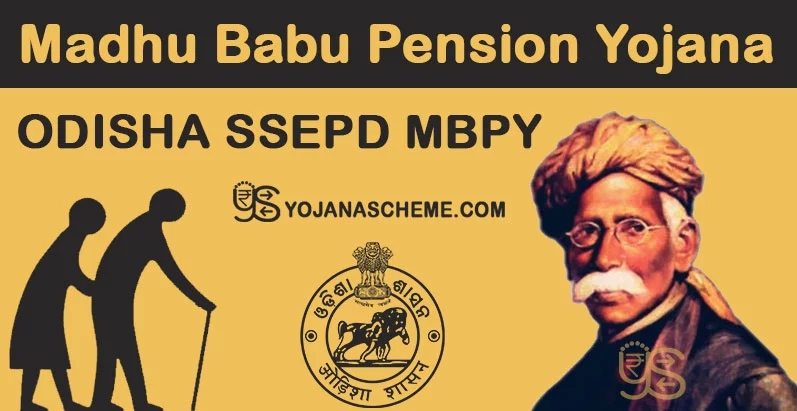 Madhu Babu Pension Yojana for Transgenders
A recent addition to the scheme from 4th July 2020, Chief Minister Naveen Patnaik approved the proposal for the transgender community's financial help. This new proposal will benefit approximately 5000 people of the community. They will get Rs 500 and Rs 900 as pension according to their age. They can also apply for the pension scheme online form Social Security and Empowerment of Persons with Disabilities (SSEPD) Department Website.
Madhu Babu Pension Yojana Overview
| | |
| --- | --- |
| Scheme Name | Madhu Babu Pension Yojana |
| Launched By | Chief Minister Naveen Patnaik |
| Launched Date | January 2008 |
| Beneficiary | Citizen of Odisha |
| Name of Department | Social Security & Empowerment |
| Benefit | Financial Help to Destitute |
| Mode of Application | Online |
| Catagory | Odisha Government Schemes |
| Official Website | ssepd.gov.in |
Types Of Madhu Babu Pension Scheme
Old-age pension
Widow pension
Widow pension AIDS/ HIV
Disability person AIDS/ HIV
Unmarried Woman
Divorcee Woman
Case of Leprosy patient
Disability pension
Eligibility Criteria
First of all, the applicant should be a resident of Odisha.
Applicant age must be 60 years and above.
Widowed women, irrespective of age, can avail this scheme.
Persons suffering from leprosy and shows signs of deformity of any age.
Annual income of the applicant's family should be less than Rs. 24000.
Applicants should not be enjoying any other govt schemes like this, irrespective of state or central govt.
PWD of any age or AIDS patient identified by State / District AIDS Control Society of any age.
Documents Required
Aadhar card
APL or BPL Ration card
Caste Certificate
Family income proof
Death certificate of husband (in case of the widow)
Disability certificate
Resident Proof
Madhu Babu Pension Yojana Online Application Procedure
If you qualify with the above type and fulfill all the criteria required, you can avail Madhu Babu Pension Yojana scheme by applying online or offline. We will guide you so that you can apply for the scheme online now. If you want to apply offline, you can contact your BDO or in Municipality.
First go to the official website of the Department of Social Security and Empowerment of Persons with Disabilities.
Then under Beneficiary Services, you can find Pension Scheme, click on it.
After that, it will take you to Application For Beneficiary page. Here you need to select Madhu Babu Pension Yojana under choose scheme then click on proceed.
Now, an application form page will open. You can also click here if you want to go to the application form directly.
Next, choose the appropriate pension type, then provide all the details like Name, Father's/Spouse Name, date of birth, gender, aadhar no, mobile number, address, cast, etc.
Also, you need to upload Age Proof document, Aadhar Scan Copy, Income Certificate/R.I Report/BPL Card, Thumb impression or Signature.
After filling all the details, now carefully check the declaration and click on submit. You are done now.
Procedure to Track Your Application For the Scheme
If you want to check the status of your application, you can go to this link.
Provide your Application Number and click on search.
It will show you the current status of your MBPY application.
Contact Details
If need any other help or facing any problem related to Madhu Babu Pension Yojana you can contact on below details
Helpline Number- 18003457150
E-Mail Id- ssepdsec.od@nic.in