Odisha Ration Card Beneficiary List for 2022 is now released by the Food Supplies & consumers welfare department of Odisha. If you have recently applied for a ration card, you can check your name, whether it's added. Here we will provide you all the details about the ration card. How can you avail benefits of ration card, whether you are eligible for it or not if you are looking for applying for a new ration card? So you can get to know about all the procedures for the ration card and can easily apply for it.
Odisha PDS Ration Card New List 2022
If you are a citizen of Odisha and looking to apply for a new ration card or check your application's status, then you are in the right place. As we all know, ration card is an essential document for all the Odisha or Indian citizens as it works as Identity proof. Using ration card, anyone can avail of subsidized food items, which is much less than the market price.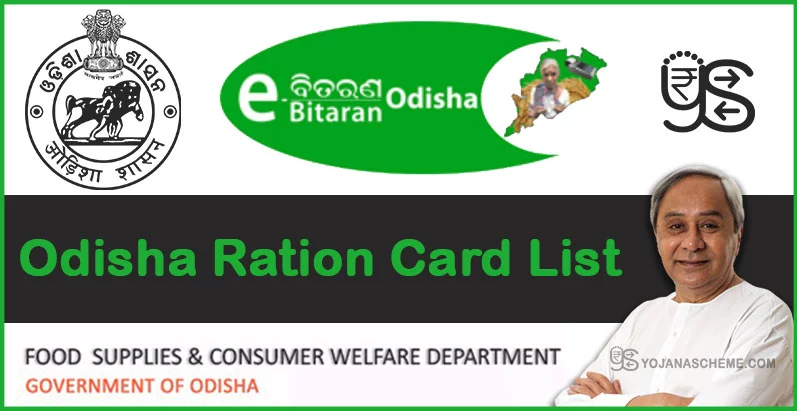 To find out the beneficiary's name easily, the Odisha govt Made the PDS Odisha ration card list 2022 publicly available. So if you want to check whether your name is available on the list, you can check that by searching your name in Ration Card List Village Wise Odisha. If you can't find your name on the list and fulfill all the criteria, you can also apply online. To do that, check our section on how to apply online for a Ration card.
What is Ration card?
This ration card is mainly for the people who are financially not stable or below the poverty line, those can't afford the necessary food items at market price. So govt run this scheme to provide them with subsidized food items at a much lower cost than they can afford easily from the Public Distribution System and fulfill their daily needs.
Types of Ration Card
For the people of Odisha, the Govt of Odisha provides three types of ration cards.
APL ration card
BPL ration card
Antyodaya ration card
Subsidize Rice Quantity Given To The Ration Card Holder
| | | | |
| --- | --- | --- | --- |
| BPL Families | 25 KG | Family | Rs 1/kg |
| BPL Rice for APL families of 8KBK | 25 KG | family | Rs 1/kg |
| AAY families | 25 KG | Family | Rs 1/kg |
| Families of fishermen (RORC) | 25 KG | Family | Rs 1/kg |
| PLOs families | 25 KG | Family | Rs 1/kg |
| SC /ST | 15 KG | Individual | Rs 1/kg |
| Differently-abled persons | 10 KG | Individual | Rs 1/KG |
Benefits of Odisha Ration Card List
>> Using a ration card, all the beneficiaries will get the necessary food items at a subsidized rate.
>> While applying for other certificates, ration card work as an official document
>> It can also be used as an identity proof document
>> Below Poverty Line cardholders will get free Kerosene oil.
>> Ration cardholders can also avail of many other govt schemes that are available specific to them.
Eligibility Criteria for Odisha Ration Card
If you want to apply for Ration card in Odisha, you should meet at least all of the below eligibility criteria. So check them in detail if you meet them or not.
>> Applicant must be a permanent citizen of Odisha
>> Newly married couples can apply for new ration card
>> Households that doesn't own any ration card yet can apply for it.
>> Temporary ration cardholder whose date is expired can also apply for it
>> If you are already holding a valid ration card on your name, you can not apply it.
List of Documents Required for New Ration Card in Odisha
>> Identity Proof like Aadhar Card, Voter ID, Driving Licence
>> Age Certificate
>> Address proof
>> Passport size photograph
>> Income proof of the family (Scanned Copy)
>> Ration card surrender receipt, if transferring
>> Valid Mobile Number / E-mail ID
>> Tenancy Agreement (if applicable)
>> Self Declaration and Certificate issued by Ward Councillor/ Pradhan
How to apply Odisha Ration Card Application online
To apply online for Odisha Ration Card, you need to follow few simple steps as provided below. Using these steps, you can easily enroll yourself for a new ration card, make sure you meet all the eligibility criteria.
>> First, you need to visit the official website of Odisha Ration Card.
>> Now, on the homepage, you will find e-bitaran option. Click on it.
>> Here, you can find many options under the rollout option there. Go to Ration Card Application Form under NFSA-2013 and click on it
>> Or you can directly click here to download the PDF of the form.
>> Now take the print out of the form.
>> Fill all the fields carefully and Attach all the required documents.
>> After that, you can submit the form at any nearest DFO Office.
You can get your ration card within 30 days to 60 days after successfully verifying your application.
Procedure to download or search Odisha Ration Card List
To view your name on the list, you can follow the below steps to download the Odisha Ration Card List.
>> First go to the official website of PDS Odisha http://www.pdsodisha.gov.in/TPDS/Reports/RationCardListReport.aspx
>> On this page, select your district, block, and FPS
>> After that, click on get report
>> Now, you can check the Ration Card List 2022 on your mobile screen or computer. To download it click on export.
List Of Dealers under Odisha Ration Card
To check the list of dealers of ration card of Odisha, you can follow the below steps.
>> First click on the official website link.
>> Now choose district and block and click on show.
>> Now the list will be shown to you.
NFSA Implementation
After implementing the National Food Security Act (NFSA), 2013 in the state of Odisha, an increased amount of ration will be provided per family member at a cheaper cost. Under this Act, rice will be supplied at Rs.1 per kg and rice at Rs.5 per kg. Here we are providing you information about the families who will be given benefits under (NFSA).
PVTG Category Family
Families living without shelter
Destitute and begging families
Widows and other single women who have no support.
More than 40% of the disabled person
transgender
Older persons above 60 years who do not have any kind of support.
Daily workers
People suffering from leprosy / HIV and other serious diseases